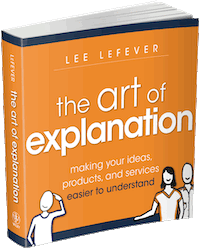 Dear Common Craft friends and fans, I'm writing to humbly ask for your help.
The Art of Explanation
, my new book, recently became fully available in bookstores and online. And now, it's up to us to get the word out - and I'm hoping you can help. 
First, I hope you'll consider
buying the book
. It's meant for everyone and especially professionals.  If you've already purchased and read it, please consider writing a quick review on
Amazon
or your website. 
There a number of other ways you can help build awareness using your influence online, no purchase required.
The Basics:
Explain That Sh*t and Explain That Idea
We've built a couple of new "micro-sites" that share fun and useful explanation tips from the book. You can tweet any explanation tip by clicking the Twitter icon on the page. You can learn more about them
here
. Fun!
Other Tweetables:
The buttons below are pre-loaded with tweets you can use to share quickly.  Tweet text appears below each button.
"Common Craft founder @leelefever has a new book out called The Art of Explanation. Check it out:"
"Have you ever considered improving your explanation skills? @leelefever's new book may help:"
"If you rely on clear communication for work, check out The Art of Explanation:"
Facebook, Google Plus, etc.:
But it would be really helpful if you could send a quick message to your friends on any social network you choose.  Below are a some ideas you can use as starting points:
"If your job depends on being understandable, check out this book by Lee LeFever called The Art of Explanation.
http://bit.ly/aoe-b"
"Sometimes, things seem so clear in our heads, but once the words come out of our mouths, they confuse people.  The problem is explanation.  My friend Lee LeFever is the founder of Common Craft and wrote a book about solving this problem by learning explanation skills. Check it out:
http://bit.ly/aoe-b"
"Lee LeFever wrote a book that may be worth checking out.  He's a professional explainer and his book is meant to help everyone learn explanation skills:
http://bit.ly/aoe-b"
Embed the Book Trailer: 
Find embed codes 
here
.
And of course, good ole word-of-mouth works too. 
Thanks so much, in advance, for anything you can do!