Creating animated explainer videos is easier than you think. Once you learn the method, you can start solving explanation problems and get the attention you deserve. I'm here to help.
A Live, Online Workshop with Lee LeFever
I will be your guide to explainer video production over four online meetings via Zoom. We'll go through every phase together, from writing the script to recording and sharing the final video.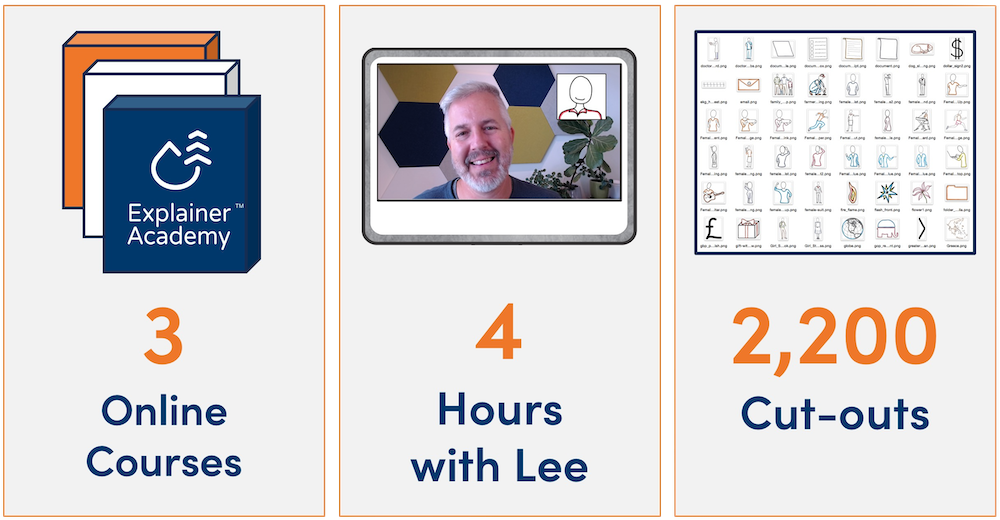 Enrollees will receive:
Four 1-hour online meetings (Zoom) with Lee and other enrollees
Three Explainer Academy courses that never expire

A Pack of 2,200 Common Craft Cut-outs ($34)
Multiple guides, templates, and models in PDF
This workshop has 10 seats that may go quickly.
---
The Schedule:
Session 1: Tuesday, November 7th, 11 am PT:
Explanation skills
How to use generative AI for scripts
Writing your script
Session 2: Thursday, November 9th, 11 am: PT
Review your scripts
Moving from words to visuals
Creating a thumbnail storyboard
Session 3: Tuesday, November 14th, 11 am PT
Review storyboards
Build your video scene-by-scene
Animate visuals
Prepare for production
Session 4: Thursday, November 16th, 11 am PT
Recording the video and voice-over
Editing your video
Ideas for sharing
All online workshop sessions will be recorded and distributed to all attendees.
---
What you'll need:
The production method requires only common tools and equipment. You'll need:
A computer with an internet connection
Zoom meeting equipment (headphones/earbuds, microphone)
Presentation software (Google Slides, PowerPoint, Keynote)
Screen Recorder (I'll share free options)
If you have questions, feel free to reply to this email, or schedule a quick call.
I hope to see you in the workshop!