This post was published in the Common Craft Newsletter. Subscribe here
A few nights ago, I had dinner with a unicorn, a bat, and a raven. It was Halloween and we were in costume at a local pub. The unicorn across from me asked about upcoming Common Craft projects and that kicked off a whole discussion about our forthcoming workshops​ on creating animated explainer videos. I'm writing to share the discussion because I wish you were there.
---
Q: What are people doing with the explainer videos they create?
Most are hoping to solve a problem rather than get views or likes. Some are educators and instructional designers. They use the videos in classes, courses, and training. Some work in companies and want to create something interesting that explains a new policy, for example. For them, the video is used in presentations, meetings, and internal networks. Some just enjoy creating media and sharing with friends or on social media. Sometimes, we have no idea.
Q: Can't they just write an email or put together a presentation?
Sure they can, and in some cases, written words are better; you can't skim a video like you can a paragraph. But there are use cases that make sense. Some subjects need visuals to make the idea clear. Animations can show transitions and changes over time. This is true when explaining processes, or using diagrams, charts, and graphs.
And let's face it, everyone is overwhelmed with information. Explaining a complicated topic face-to-face can be intimidating. Long emails and documents don't get read. Another presentation deck isn't interesting. Animated explainers are a unique and efficient way to package an idea and get attention.
Q: Are you teaching animation software? What tools do you use?
I think about it like this... buying the best camera in the world isn't going to make you a great photographer. I believe technology often gets in the way of creativity and clear communication. Powerful and complicated animation software does not make an explainer video more effective, but it does take more time and money.
We teach Common Craft style, which is really simple in presentation. Visuals appear and disappear, they animate into out-of-scenes. Presentation software, like PowerPoint, is a perfect tool for these videos because the technology is common and familiar. Virtually everyone has access and can use it right off the bat. The simplicity of the tool keeps the focus on the explanation.
Q: What about AI? Isn't that going to change things?
Yeah, AI is going to change creative and knowledge work. There may be a time, within a few years, when generative AI can create animated explainer videos from text prompts. These videos may be useful but are likely to be generic. They will be able to explain a well-known concept like photosynthesis. But when video creators have a specific audience in mind, it won't work. That's because AI will never know the specific needs of your team, your boss, your colleagues, your students, or your audience. Translating these needs into an effective video ​requires a human​.
That being said, AI does make explainer videos more efficient to create. With a few prompts, ChatGPT can provide a starting point for a script and ideas for a storyboard. The key is understanding how to use it productively. It can't do everything, and that's not the goal. An explainer video needs a human to translate the ideas for their audience.
Q: Do your workshop attendees need to create original artwork and visuals for the videos?
Creating visuals for a video is one of the big roadblocks for many. For the video to seem cohesive, it helps to have matching visuals, and not everyone can produce or find those materials. Even generative AI can't create a library of matching visuals. We solve this problem in two ways:
We provide workshop attendees with access to our searchable library of over

​

3,300 Cut-outs

​

. These are PNGs with transparent backgrounds that all match in look and feel.
We teach attendees how to draw using presentation software. Most people are surprised by what is possible.
Here's an example of me drawing a robot using Keynote: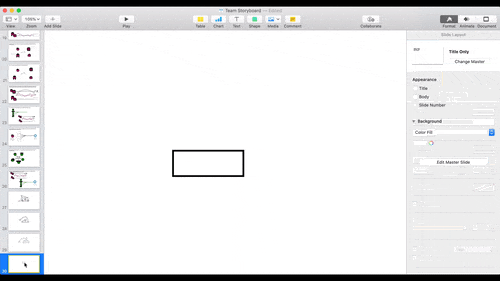 Q: So the workshop is 4 hours of live instruction. Is that enough time to teach the whole process?
Good point. I'm guiding them through the process of creating their video. The goal is for them to complete the video by the end of the workshop. There isn't enough time to tackle a three-minute video that's ready for primetime. So, we're focusing on a one-minute video and developing skills that can be used in the future. My hope is they will keep practicing.
Q: Is this something you'll do more in the future?
That's the plan. I've taught online, self-paced courses for years. Now I'm excited to be a resource for small groups and individuals.
Q: How did you get those fangs to stick to your teeth?
Denture adhesive!
About the Workshop
Enrollees will receive:
Four 1-hour online meetings (Zoom) with Lee and other enrollees
Three Explainer Academy courses that never expire

Access to our online library of over 3,300 Common Craft Cut-outs ($99)
Multiple guides, templates, and models in PDF
This workshop has limited capacity that may go quickly.
---
The Schedule:
Session 1: Tuesday, November 7th, 11 am PT
Explanation skills
How to use generative AI for scripts
Writing your script
Session 2: Thursday, November 9th, 11 am PT
Review your scripts
Moving from words to visuals
Creating a thumbnail storyboard
Session 3: Tuesday, November 14th, 11 am PT
Review storyboards
Build your video scene-by-scene
Animate visuals
Prepare for production
Session 4: Thursday, November 16th, 11 am PT
Recording the video and voice-over
Editing your video
Ideas for sharing
All online workshop sessions will be recorded and distributed to all attendees.
What you'll need:
The production method requires only common tools and equipment. You'll need:
A computer with an internet connection
Zoom meeting equipment (headphones/earbuds, microphone)
Presentation software (Google Slides, PowerPoint, Keynote)
Screen Recorder (I'll share free options)
If you have questions, feel free to reply to this email, or ​schedule a quick call​.
I hope to see you in the workshop!