Over the past month, Sachi and I have been neck-deep in ideas surrounding explanation, and it has been one of the most creative times in our lives.  As you may remember, I'm writing a book called The Art of Explanation that will be out in October of 2012.  To make our deadlines with the publisher, we took time this month to focus almost solely on the book - and that we did.  I've written and Sachi has edited almost 60,000 words in the last month or so, which is much more than will appear in the book.  In a lot of ways we've been writing this book for years, so this was our time to bring it all together.
Here is the spot where those words were typed. It's in a house we rented for a writing retreat.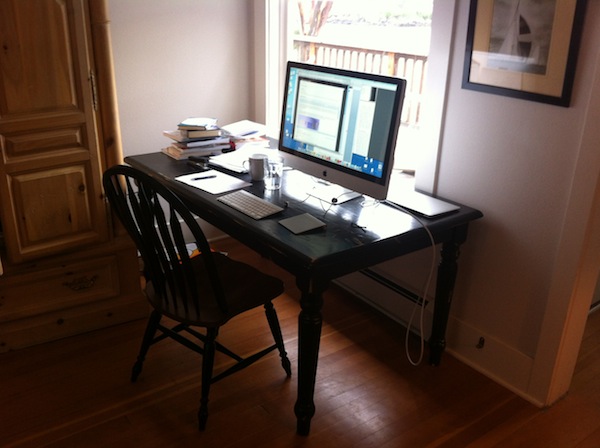 Current Status
I'm feeling like the major part of the writing is finished. The big ideas are in-place and the table of contents is pretty much fleshed out.  Something we did last week, which was incredibly helpful, was to take the big ideas and arrange them in vertical rows by chapter. This created a visual way to see the book as a package.  As soon as we put up the notes, it highlighted gaps and showed how the book could be better organized. Thanks to Dan Roam for his advice on this exercise.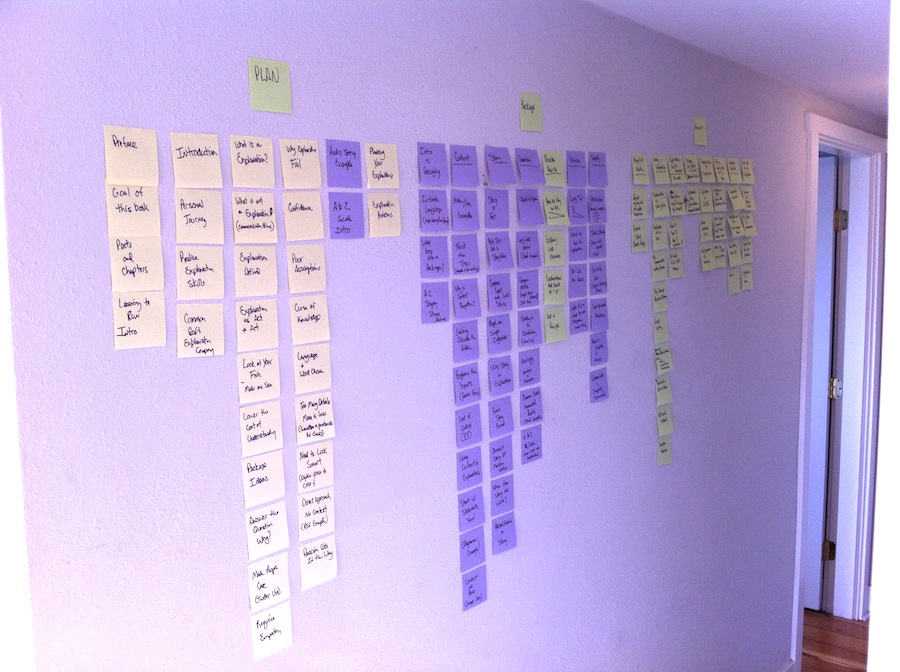 Right now we're working with a development editor at Wiley (the publisher) who is helping us make sure that the overall structure and flow of the book is working for our goals.  So far we've sent her two of the three parts of the book, so we are mid-stream.  Her feedback on Part 1 and it was encouraging and we have high hopes for Part 2.  The final manuscript is due in late May.
The Big Idea
Now more than ever, we have a clear vision of the book's intent.  The Art of Explanation is based on the idea that explanation is a powerful skill- and one that is often taken for granted.  We want readers to see that explanation can be defined, understood, improved and put to work in solving problems. In this way, the book is for anyone who wants to become better at explaining their ideas, whether it's in the office, a classroom or home.  The book is based on our work at Common Craft, but isn't about making videos. It's bigger than that.  At heart, it's about effective communication.
Stay in Touch
We still have a long way to go and because this is our first book, we're learning as we go.  If you're interested in tracking our progress, The Art of Explanation Facebook and Twitter accounts have more regular updates.  Of course, the Art of Explanation website will be the home of the book in the future.